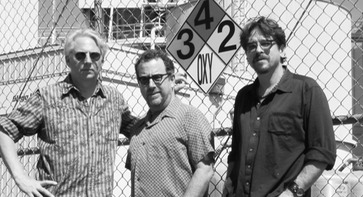 pages coming soon:     past shows     photo gallery     flyer gallery
UPCOMING SHOWS
> Thursday, Apr. 23, 2015 - The Wiltern Theater, Los Angeles - we've been invited to open for FAITH NO MORE on their swing through LA. Tix HERE.
> Friday, May 1, 2015 - Cafe NELA, Los Angeles - our once-a-decade or so record release party (for NEXT YEAR AT MARIENBAD) will feature San Francisco's COLD BEAT (with ex-Grass Widow Hannah Lew) and the always-inspiring SHARK TOYS. Also: PRIZES! SPECIAL GUESTS! $10 21+
Rick Moody on ACK ACK ACK ACK
Author Rick Moody makes the case that we're responsible for the greatest song ever written (and makes it all somehow plausible.)  Also, an interview with Rob Roberge on being a Urinal. Read it HERE.
New URINALS album now available
Our long-in-production record, NEXT YEAR AT MARIENBAD, is now available on CD, vinyl, and digital download.  Order it HERE including the limited edition blue vinyl version.
100 FLOWERS album now available via Download
For the very first time, the 100 FLOWERS album is available as a digital download, currently via CD BABY.  Within the next two weeks, expect to also find it through iTunes, Google Music, Amazon MP3, eMusic, Rhapsody, Spotify, and other digital distributors.
UPCOMING SHOWS
> Friday, Nov. 14th - INSTANTS CHAVIRES (Montreuil, France) - our first visit to Europe, and one of two shows on the continent!

> Saturday, Nov. 15th - HARBINGER SOUNDCLASH v2, at DE KREUN in KORTRIJK, BELGIUM


NEW ALBUM WRAPPED...
…and soon it will DROP! We're currently in the graphic layout stage of the saga. I've learned not to make promises, but we're heading into the final turn here. More soon...


URINALS to PHOENIX
We'll be playing at the Double Nickels Collective on Saturday, February 22, 2014, along with FAR CORNERS, MAN HANDS, BUTTON STRUGGLER, and MR. ATOMM'S BOMBS. Details here!
December shows: 100 FLOWERS farewell & RADWASTE reDebut -
100 FLOWERS is going back to its day-job soon, but catch us at PART TIME PUNKS at THE ECHO on Sunday, 12/8.  This is the last foreseeable show w/ Kjehl before the URINALS kicks back into gear in 2014.
Meanwhile, Kevin and John join the reformed RADWASTE (with ALL original members) at THE REDWOOD in downtown LA on 12/6/13 (it's a busy weekend!) See the new RADWASTE Facebook page for details. NOTE: RADWASTE was unable to perform.
100 FLOWERS to NoCal - 
The 100 FLOWERS flavor of THE URINALS (i.e. with founding member Kjehl Johansen) is off to Northern California in November: On Sat, Nov. 2, we'll be at Oakland's UPTOWN NIGHTCLUB with THE AVENGERS and WILD ASSUMPTIONS. Details here!
On Sunday, Nov. 3, we debut in Davis, at the Third Space Art Collective, with BAD DADDIES and DAD PUNCH. Find the info here!
100 FLOWERS at Cafe NELA, Saturday 10/19/13
This Saturday at Cafe NELA near Glassell Park, we'll be celebrating Sylvia Juncosa's birthday with John Wahl, The Last, and the b'day girl herself. Details!
100 FLOWERS in the LBC
100 FLOWERS will play Long Beach on 10/3 with the lovely and talented SHARK TOYS, CUNTZ (from Melbourne!,) and our old friends from the Smellscene, LE FACE! Expect mayhem from the kids, and respectably angular pre/post/punkrock from the oldsters. The Prospector, 2400 E. 7th St., Long Beach, CA 90804! Music at 10pm, 21+, $5 cover.
100 FLOWERS/URINALS to play STRANDED in Oakland on 9/14/13
The "legacy" Urinals (original lineup, with Kjehl) will be playing a set of 100 Flowers & early Urinals tunes at Stranded Records' One Year Anniversary soiree on Saturday 9/14/13. Info HERE.
NEGATIVE CAPABILITY - now on vinyl!
7/30/13 - IN THE RED has just released a 2-disc set of the classic early URINALS anthology NEGATIVE CAPABILITY…CHECK IT OUT! We have copies of the limited edition red vinyl package, available for sale HERE.
UPCOMING SHOWS
Saturday, June 22, 2013 - NEGATIVE CAPABILITY Record Release Party, with URINALS and 100 FLOWERS.  Both interpretations of the same band will be performing together (a first!,) covering 3 1/2 decades of minimalist, lo-fi, pop-psych, white-boy funky punk rock. Founding member Kjehl Johansen returns to the URINVERSE to handle guitar chores for 100F, with latter-day guit-god Rob Roberge taking over for the URINALS set.  You'll hear songs unperformed live for literally decades - it'll be a special night to celebrate the 2-lp vinyl edition of the classic URINALS compilation NEGATIVE CAPABILITY…CHECK IT OUT! due on IN THE RED Records.  Also w/ SHARK TOYS and MC/comedian Tania Estrada. Join us at the BLUE STAR CAFE in downtown LA. 
Saturday, July 27, 2013 - VIVA POMONA, with 100 FLOWERS.  This post-punk version of the URINALS will be playing selected shows for a limited time (through the end of 2013) to promote the release of the 100F catalog on vinyl and CD by SUPERIOR VIADUCT.  Last year's VP was a blast, btw. Come on out and see an impressive lineup of the up-and-coming (and us too!)


100 FLOWERS reform
3/7/13 100 Flowers, the post-punk era incarnation of the Urinals, will be playing a limited series of shows in the second half of 2013.  This is a temporary reunion, featuring guitarist Kjehl Johansen, to promote the release of the 100F catalog on Superior Viaduct. More info here.

100 FLOWERS on vinyl
3/7/13 - 2013 will be a busy reissue year for us, with a variety of early recordings being rereleased to vinyl.  First up: on March 19th, Superior Viaduct will issue the original 16-track "100 Flowers" LP in the 12" format. You can preorder it HERE.


MIKE ATTA BENEFIT
1/22/13 - This Friday, 1/25/13, we'll be playing at a benefit to assist the Middle Class' Mike Atta as he fights cancer.  For details, see HELP MIKE!  To donate to the cause, see this FUNDRAZR link.
VIVA POMONA
7/15/12 -  Last night, Bastille Day, we played the VIVA MUSIC FESTIVAL at The Glass House in Pomona, Ca.  It was a strong lineup: So Many Wizards, The Babies (no, not that one,) Grass Widow, La Sera, and the Tijuana Panthers.  We were thrilled to have had Grass Widow join us on "Black Hole." Their harmonies really took the tune to the next level. Kudos to promoter Rene, who put the evening together.


BACK FROM SLED ISLAND
06/25/12 - We've just returned from Calgary's  SLED ISLAND FESTIVAL, where we had our Canadian debut.  It only took us 35 years!  Weird that we played China before Canada, but now we're on a roll -- next up: Chechnya, Cambodia, the Czech Republic, Cuba, and The Congo. 


NEW ALBUM 
06/17/12 We keep promising this record -- and it keeps stubburnly refusing to complete! Recorded at Greenhouse Music Studios and recorded by Mike Martt (Thelonious Monster, Tex and the Horseheads,) the new album is currently being mixed by ace engineer Andre Knecht (Human Hands, Urinals) for eventual release.  It's taken a long time, but we're hoping that slow and steady does indeed still win the race.  No set date as yet, but keep your ears open.